We are very excited to share that Kapital Data Corp is recognized as the #1 fastest-growing privately held Philadelphia100® company for 2019. Philadelphia100® is a hallmark of entrepreneurial achievement that recognizes the 100 fastest-growing, privately-held companies in the region.
This year, Thursday, October 25th, the event took place in Downtown Philly, at the Crystal Tea Room, in the well-known Wanamaker Building.
The event began with cocktails, networking with fellow CEOs who were invited as a Philadelphia 100® awardees. An hour into cocktails we were ushered into the lovely crystal ball room for a sit-down dinner during which the rankings were to be announced the reverse order 100, 99, 98, and so on.
We attended the event as a Philadelphia 100® awardee and going in we knew that the rankings are announced live. So, our team anxiously waited to hear our name being called. Even after the 50th company's name was announced, we did not hear "Kapital Data Corp" the excitement was beyond palpitating. As the countdown continued, dinner was being served. Even though we began to feel hungry, the nerves didn't allow us to pick up the fork.
The speaker was down to announcing the last ten. We were certain there was a giant mistake - they forgot about us. Finally, it was totally surreal, to hear the speaker say that the Fastest-Growing Philadelphia 100® Company for 2019 is... KAPITAL DATA CORP! This was an experience like no other. Feeling the positivity and appreciation from every person in that room was incredible.
Earlier, we had the powerful and inspirational Todd Carmichael, CEO and Co-Founder of La Colombe, as our Guest Speaker for the evening. Todd made a powerful speech about how the human mind experiences hundreds of thoughts every single hour with the majority of them being negative thoughts. He too in his personal and entrepreneurial journey were subject to a constant barrage of negative thoughts – but ignoring those negative thoughts and instead believing in himself helped him not only to complete a solo trek across Antarctica to the South Pole and to build his coffee-start-up into a billion-dollar coffee company. The concepts and inspiring words he spoke of that night resonated with our team. I know I will remember his words every day when I am out there fighting the good fight.
Winning #1 spot on Philadelphia100® is not a small accomplishment for our fledgling start-up. We are delighted, thankful and very grateful for this recognition. Yet, we know this is only a beginning.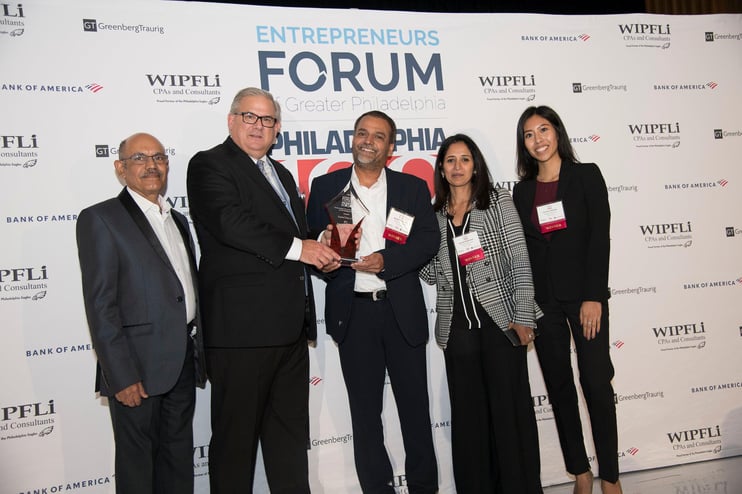 What next?
Of course, we'd be delighted to be back enough times on the top Philadelphia 100® Companies so as to make it into the hall of famers, eventually.
At this crossroads in our journey, Marshall Goldsmith's best seller "What got you here won't get you there" comes to mind.
I know, from having been here before, what got Kapital Data Corp this far isn't going to get us to the next milestone in our journey. This message may not be received well; however, it is simply the truth.
To move the needle all our current associates; including myself, especially myself; learn new skills and capabilities that elevate the service we deliver to our clients. Only those who can transform themselves completely will help us make this next milestone. As an . example of this belief, in 2018, I attended a 12-Week program sponsored by Goldman Sachs 10KSB - at the risk of sacrificing valuable growth. I gained new capabilities and utilized those skills to articulate our value to key stake holders - I can say, it was the best thing I did for myself and Kapital Data.
Recently, we welcomed Kavita Madhavan as our COO and Chief Data Strategist. She is responsible for our data management professional services especially designed for emerging Pharma companies. In addition, she will oversee our operations – fine tuning our every process so that we can transform ourselves into the Preferred Professional Services our clients have to come to rely on. I am confident I am not alone in my excitement of her addition to the team.
Earlier this year we have also brought onboard Phil Shipos as Director of Professional Services. Phil is a solid performer with whom I have worked with for over a decade building a well-known Peoplesoft-centric Professional Services company. I have full faith that his disciplined approach and commitment will be inspiring for others on the team to emulate and exceed.
We are now looking to onboard Key Talent that will contribute or lead efforts related to:
Sales
Digital Marketing
Recruiting
We know that this moment that we are basking in was only possible with the enormous confidence placed in us by so many of our past and current associates, clients, our bankers (both those who rejected us and recognized us), our coaches, educators, our families and friends.
A BIG Thank YOU from all of us at Kapital Data.