We are happy to share two additional Disadvantaged Business Enterprise (DBE) certifications that we received! With the Empire State and the Land of 10,000 Lakes. Yay!
This past month we have accomplished two big goals of being certified in Minnesota and New York. Kapital Data is now DBE Certified by The New York State Department of Transportation (NYSDOT), a certifying partner in the New York State Unified Certification Program (NYSUCP) and by The Minnesota Unified Certification Program (MnUCP)!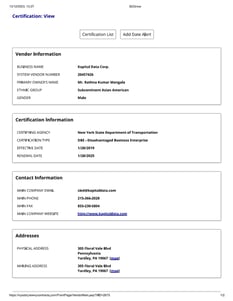 The New York State Department of Transportation: Based on this certification, Kapital Data is eligible to participate as a DBE on USDOT -assisted projects in New York State. As long as Kapital Data is listed in the NYSUCP DBE directory, we are considered DBE certified by all NYSUCP annually through this office. The NYSUCP members are responsible for determining if firms meet the DBE certification or Airport Concession DBE (ACDBE) eligibility requirements.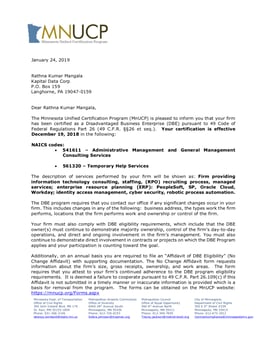 The Minnesota Unified Certification Program: The goal of the DBE program is to make sure there is equal opportunity in the award of US DOT-FHWA-FAA-FTA assisted contracts for highway, transit, and airport projects. As a condition of receiving federal financial assistance, recipients of funds from the FHWA-FAA-FTA, are required to follow the DBE program regulations. Every year government agencies in Minnesota spend millions of dollars on highway, airport, housing, and transit planning, construction, and maintenance projects. When federal dollars are utilized for this work, goals for DBE participation may be set on these projects.
The program is intended to create a "level playing field" on which DBEs can compete fairly with larger non-DBE firms. The DBE program remedies ongoing discrimination and the continuing effects of past discrimination in federally assisted transportation contracting markets nationwide.
We now look forward to expanding our relationships within Public Sector Organizations in New York and Minnesota.